4 Varieties of European Mousse Chocolates
LIMITED EDITION! merci Mousse Au Chocolat. 4 varieties of delicious European mousse chocolates with 20 individually wrapped pieces in each box. merci® fine chocolates filled with Cocoa Mousse, White Mousse, Dark Mousse and Hazelnut Mousse, all in a delicate chocolate shell.
merci Cocoa Mousse
Fine milk chocolate filled with a delicious light tasting cocoa mousse.
merci White Mousse
Creamy white chocolate filled with a hint of divine white chocolate mousse.
merci Dark Mousse
A rich dark chocolate filled with a fluffy dark chocolate mousse.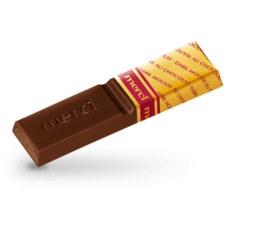 merci Hazelnut Mousse
Smooth milk chocolate filled with a delicate hazelnut mousse.
Whether as a small thank you to others or as a treat for yourself, the merci Chocolate Mousse Assortment is a must for every mousse chocolate lover.